Pavements (IV)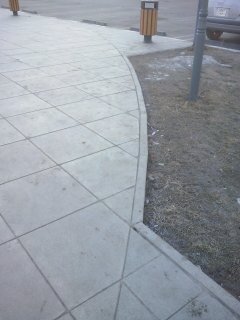 Different sizes and cuttings to draw shapes.
Pavements (III)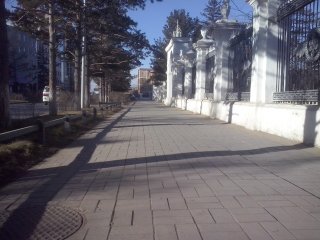 Some pavements combine the same tiles or flagstones to create a pattern
Pavements (II)

Pavement in Ulaanbaatar.
Pavements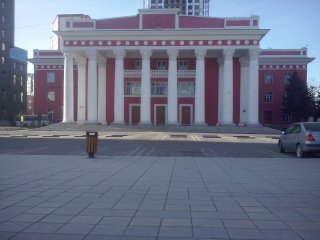 Ulaanbaatar looked like a work in progress when I arrived two months ago. Getting on a bus along the main street that stretches through the city from East to West for more than ten kilometres, the traveller can see construction activity on pavements, pipe lines, new buildings and reforms everywhere. It is the most magnificent buildings that draw our attention first, of course. There are plenty, some also under reform, some others waiting restoration, all of them diverse, showing a great diversity of shapes and styles. It was more recently, two weeks ago, walking around the centre and towards the mountains of the south of the city, that I could appreciate that what looks like a desire for diversity in buildings was also present in pavements. It looked like almost every street had different tiles or a different pattern. So, on my way for a day hike with a group of friends, I quickly took some pictures before we reached the unpaved road and slightly snow-covered paths to the mountain.
Ulaanbaatar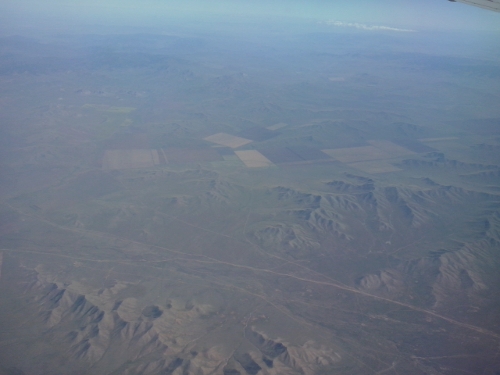 Still in time to begin to gather a new crop with a harvester, I started to pack to move as far from the Greenwich meridian as I have never ever traveled before. 115 degrees of longitude and four weeks after, here I am, learning (I have to teach too, though less often) about grammar and those subjects, I told you when I started to write this blog, that could be of interest to four or five people in the world, though the number could have increased slightly now we are one billion more.

I also wait for another new different cold winter to pass by.
Starting to harvest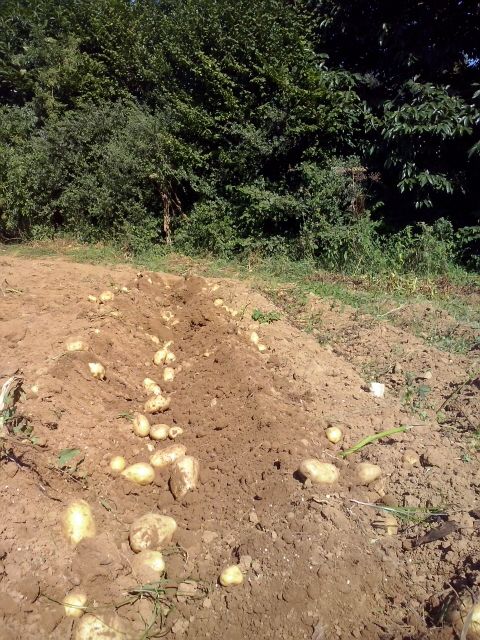 Small pieces of land each time. Using a plow instead of a harvester both to prospect and harvest the crop of some more irregular areas.
Open petals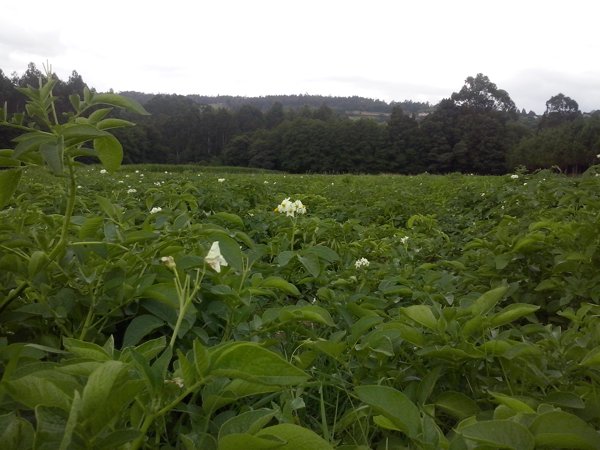 Since the seeds were planted until the plants were full grown, it was rainy every single day. The plants grew healthy and the sun came, a month ago, when they were beginning to bloom.
Maintenance painting (some brush and roller) on outside walls
Good weather to paint some outside walls. Using a brush to cut in the edges and a roller for the rest of the surface. The walls were already painted, no primer, only a washing down was needed.

Two coats were applied, the first one slightly watered.
The last one (at least took part)
The UNDL Foundation organised the II UNL Olympiad, an event to promote the use of the Universal Networking Language (UNL). Among other uses, the UNL is intended to serve as a pivot language for a global machine translation system.

I decided to participate less than a week before the deadline. It took me three days to prepare the basic corpus and a grammar.

To be the last one in the only modality I took part in!

Congratulations to all the winners, silver and bronze medals included.
Plowing, tillage, and finally planting (with some rain in between)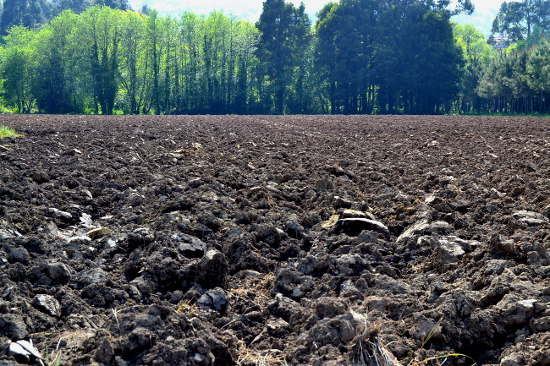 First week of May I finished plowing for this year. After some rainy days, I tilled the last piece of land on 9 May, and on 10 May the last (and most of the) potatoes for the year were planted.
More on travels

While still being busy with the edition of the glossary of place names of Mendes Pinto, I got in touch with Anton Jankovoy, an outstanding travel-photographer. It was many different subjects that led me to contact him to edit an article he wrote. First, the fact that I was into publishing at the time. Second, and most important, Anton is a traveler in Asia and his pictures are located in some of the most fascinating and inaccessible places on Earth. Finally, his work on astronomy brings a clear image of the sky, highlighting some aspects that were key to astronomical navigation. Rotation of the Earth appears vivid in the star tracks of Anton's pictures, so does the concept of the stars as a reference to find the celestial poles and hence define latitude, the only geographic coordinate used by Mendes Pinto on his travels (combination of latitude with distances in leagues and cardinal directions allowed location of places without longitude).

This is a short e-book on photography and the night sky. To me it was an excellent opportunity to learn more about topics that are extremely useful to better understand geographical description at the time of transoceanic astronomical navigation.

Google Books offers a good sample of Anton's e-book. Different formats can be found for sale at Lulu, Google Play and Amazon.

As for my e-book on place-names, most of the contents are available on Google Maps. If you have a particular interest in the field or you are a researcher on a related subject, you can contact me to send you a free PDF file with the whole list of place-names I have researched.

A former construction worker
It was about a month and a half ago last time I visited a construction site. This was a new house, the only one being built around at present. I was told that there was only one bricklayer in the site, so there I went to offer my services, nothing new to me, from bringing mortar and place the bricks on the scaffold to put some rows and rise some walls had I the time and were found skilled enough to do so. There were two bricklayers already, and the rest of the team about to come one of these days. Apparently there was no need to hurry up, work is still scarce!

Construction has become an extra skill that, sometimes, could be well worth mentioning in a CV. Something I do proudly, of course.

Not only. Last week I still could use my trowel to fix the hinged support for a fence. And earlier this month I spread some concrete as a slab for a garage entry. It was some years of hard work and some study, perhaps too many different tasks, changing too soon to become the perfect master, though enough to handle a couple of tools and mix some mortar.