Potato harvesting machines

I spent most of the day repairing and improving the small potato harvesting machine. It has proved to be more efficient than the potato harvesting combine for these small, irregular, sloped, stony pieces of land.

In the morning I lubricated and repaired the bearings. In the afternoon dad and I began to place a new four-pinions shaft that has been designed to improve the machine performance. A local company manufactured it following the harvester particular requirements. At home we adjust the frame to fit the new component: metal cutting, screwing and welding.
The turtle dove



The sun shines over the potato cultivar that dad, mum and I planted the 10th of March. The plants have grown, leaves and branch stems have fully developed.

A prospection reveals that tubers have begun to grow above the ground too. This is the first crop of the year. The last potatoes of the season were planted two weeks ago.

I have been abroad for a month. Before I left I visited the old willow. So many years together and I realize now that it is a different hybrid from its neighbours: even if a little bit later than the rest, catkins have sprout too.

I came back on Saturday and I found the first foxgloves shining and dancing as if bells. I heard the turtle dove.



Here it announces the season for crops other than potatoes has arrived.
Ploughing again
The willows have shown their catkins. Almost all them. An old one dwelling by the river I visited yesterday has shown none yet. We met many years ago when I was a young boy. I shall come back to the same place to see what is going on.

Meanwhile the first piece of a plot was ploughed today.

Instead of maneuvering the same way I did last year, this time more area is left unploughed towards the perimeter so turns are quicker and easier to be made.

I keep the line!
Support structure for kiwi vines (and IV)
Fixing and finishing!

1. Steel strips 6 x 1 cm, 50 cm length are cut. Two holes bored on each side and finally U-bent to fit beam and pole on both sides.

2. Each beam is then fixed to the pole using screws.

3. Plant stems are left over the frame.

4. Contact surface is protected with textile (dust sheets here).
Support structure for kiwi vines (III)
Support structure

1. Old structure (metal) is partially removed and picked up using a tractor.

2. Holes (40cm diameter, 90cm depth) are digged in 3 rows at a distance of 2m from one another.

3. Poles are leveled and retained with stones compacted with a sledgehammer. Finally some mud is added.

4. Beams brought up over the poles top.

5. Rafters over the beams.
Support structure for kiwi vines (II)
Formwork

Perhaps this process can be called casting indeed.

1. A mould is built out of lumber. Here I use units 2.5x10cm , 2.5m length.

2. A first layer of concrete is poured into, then rebars (10mm diameter) are dipped in. Finally another layer of concrete is poured until reaching the upper top of the mould.

3. I use no release agent: a higher level of roughness is expected, if too much I would apply a thin layer of mortar after deshuttering.

4. Left at least 20 days for curing.
Support structure for kiwi vines (I)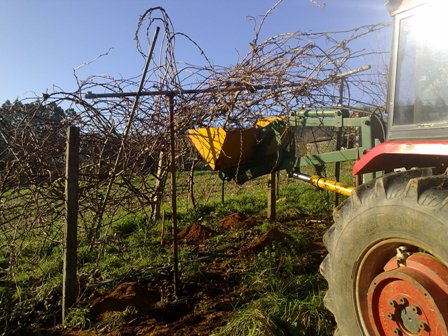 Some tools

Tape meter
Shovel
Concrete mixer
Hammer
Bubble level
Pincer
Angle grinder
Drill
A multi-function one: a tractor. This time a bucket is attached
Methinks
Hello! After two weeks of non-stop work with tiles and floors I am back, resting. I got up late. I was alone at home. I greeted Rifante, spent some hours with the laundry, opening bank letters and the like and went to the town for a coffee.

I received Antye Greie's (www.poemproducer.com) latest album today, I am still listening to it. I have been at Abertal headquarters and felt a little bit of saudade of that time when I thought we could also contribute to change the world for the better. I came back home, sent some messages to say next Saturday I'll be walking close to the seashore, looking for the same places the bard sang. I switched on the iplayer tuned to my favourite program and finally surfed the web a little bit to find out this blog after a list from a friend at twitter: http://mittani.blogspot.com

I did not find an e-mail to write to the author. I would do so just to say I enjoyed the articles. Above all the one dealing with the expression methinks.

It is exactly the same in Galeg: eu parece-me. Quite common in old speakers, it is not that strange to hear it in Bergantinhos (Galizaland) even nowadays: we are dealing with an expression which has the same origin even if used in different languages: methinks, eu parece-me.

There is no sunlight. The night has arrived. However the birds are still singing: much more lively than usual. I feel the spring coming. Methinks.
Gusts in a kiwi's plot
A storm, winds heavier than usual, and the weight of a good crop brought part of the support structure for the only two kiwi plants in the farm down to the soil. Kiwi is a new cultivar here.

A new structure is needed. It must support not only the weight of the crop but tension that could be carried over by strong winds: when the kiwi plants grow, stems and leaves form an almost homogeneous cover that offers resistance to the wind as a whole and thus acts upon the frame.

There are several solutions. Metallic or polymeric bars could be intercrossed and fastened. In fact steel bars formed the previous frame. However there are not low-cost ready-to-use easy-to-install products available. Timber offers less durability. Given the know-how and tools at hand I regard any of the materials as equally time-consuming.

Concrete offers a more resistant frame, good performance and longer life-span. I would not consider it if there were many plants, as transport, time and difficulty of construction would favour any of the previously mentioned materials: even if not as much resistant, they are effective enough for what uses to be even the most common heavier winds of the area. And once the frame is set up, if replacement units are left, it would be easy to mend or to replace if any element got damaged.

I prefer stone as a visible surface in this environment. There could be polymers, even steel bars with much more thinner section, that offer less visual impact than concrete, however they lack the appearance stone or wood show. Anyway the plants are going to hide most of the frame, and thus any aesthetic features of the frame itself would be minimized. As far as I have seen in traditional vine supports, squared stone is used for the posts. In terms of shape the most similar appearance would be that offered by concrete. More: I can favour a rough look more similar to that of stone avoiding a release agent over the shuttering. Texture remains that of concrete. However, even if it could take some years and does not hide concrete appearance completely, roughness rises a microhabitat for moss to grow in these rainy lands.

Anyway I can apply a finishing if needed. In fact some buildings of the farm require to be covered with stone.

Suggestions about concrete and finishings over concrete are welcome.

A point (and the head and shank) on shuttering
When you try to describe or express any action, object, idea, whatever, you need a vocabulary. The more accurate, the more exact your description. You also take for granted that your addressee will be able to decode what you have expressed.

As a construction worker, whatever the language used at the working environment, I am required to name a number of objects and actions.

When you perform a task you also gain skills to name tools, objects, processes. You are supposed and required to make a perfect job. However you are supposed but not always required to name everything properly. Letís see some examples.

It is not only because sometimes it is cold and rainy, there are many hours left to leave, that irony could be used. I might not get it, perhaps it is only for the need of a smile from time to time. A 20/100 nail is an electrode. Deixis, hyperbole and an out-of-place metaphor allow intelligibleness. It would always be informal speech as well. The kind you would never use when addressing to technical staff.

Synecdoche and metonymy are common figures that deviate from an accurate definition. You just compare and use the name of a tool or object when you are faced with another one that resembles it or functions in a similar way. Please, allow me to bring some examples that are better understood within a diachronic context for the metonymy: a birdís claw became a part of a hammer; a ploughed versus that defined the area where the buildings were to be constructed became a line of the text where the founders of the city were prayed in Latin. Letís come back to synchrony for the synecdoche: If you cannot name a particular element or object you just name the generic. So a round wire nail, an oval wire nail, a lost head nail, a brad or a tack are just nails.

All this is to say that many times it is difficult to find the exact terms. So you express yourself the best way you can just for the sake of being understood. Thus when I began to refer to the action of shuttering or formwork, I used casting as the more specific term I had at that time. I cannot blame it on cold and rainy weather, nor apply for a particular figure to explain a deictically restrictive use.

But I can point it out.

Friends
I have moved to Facebook !!! I was invited to join a couple of years ago. I used it some days and quit. Now it is a month login almost daily when I come back from work !!! :-)

So, perhaps I am not going to update this blog any longer. Let's see, it has been a nice experience: quite good to improve my English! By the way, I apologize for my solecisms and jargon. I enjoyed writing the articles and I hope so did some of you reading them. That was the most important thing to me.

The CMS provider has no blog statistics so I could check only data referring to entries typing the domain name. The browsers I have used keep the link to enter the CMS straight away, thus bookmars or browsers that keep the original link to the CMS are not logged. For the domain name particular segment I noticed there are entries on DAILY basis! Although I have met people on and off-line from several parts of the world, the frequency and diversity of geography of entries, even if low, looks like a little bit bigger than my circle of relatives, friends, known colleagues.

This blog is public, so it is for anyone to read it. However its first goal was to keep in touch with those people I don't see often or I haven't seen and could not contact for years. Perhaps Facebook is more useful for that purpose, hence this blog looses its main original goal.

However, and due to the fact that there are people taking a look at the articles -a short message is welcome ! - if I feel in the mood it is possible that I come back and write a note or so from time to time.

As usual:

PHILOLOGY: if I were to go any further with Iria Flavia, I should publish an academic paper rather than disperse notes in a blog. Some key aspects: Gallaecia's epigraphs and Celtic Goedelic language show similar phenomena that could explain iria in terms of Latin rivus, no need to search for complex pre-Celtic lexemes. Secondary issues such as gender are easily explained from Galeg. May be Iria has been something more than subject of research or some sort of a Muse to me since this blog was created: I feel it is quite easy to understand now.

CONSTRUCTION: I moved to a new company. It is my second month: this is platforms, big buildings. New kinds of props, new formwork system: many new things to me. I am introduced very slowly, from time to time, not as my main task: I am the last one here, and must perform the most basic tasks first. But I must acknowledge I am quite fortunate for being allowed to work in such a place. I can not say where I am going to be in about 4 months.


POTATOES
I have been quite inactive. I just took part in some selection tasks: packaging according to size and aspect, remove damaged tubers.


For all those who have arrived to this blog and I do not know who you are, thank you for your attention. For all my good friends and colleagues, (most of you, I guess) see you ! Have a nice time you all !

Nota bene:
FŁr Anna: You are too good to be true! So strange! It is some sort of context at the beginning and end of that CD I was given by the ones who bear your clan name: Anthony J., I feel as if you were always there. My good teacher. I REMEMBER. See you someday, somewhere.

Harvesting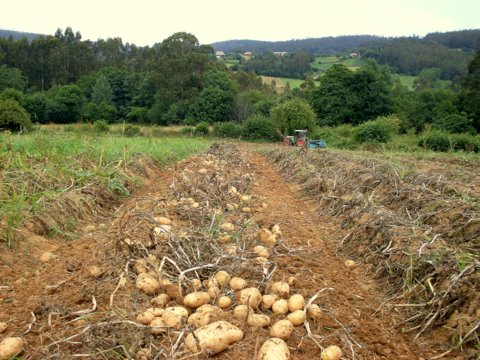 Most of the potatoes are being harvested this month. Two different harvester machines are being used, the new one requiring a new, more powerful tractor in sloped lands.

Potatoes are medium-sized, good average of not-damaged, full-developed tubers. Harvester machines leave the potatoes spread on the ground. First selection is thus made on the plot, by hand.

Tubers are carried on a tractor, brought to a storage place where they will be selected again, and disposed in a right environment (light and temperature the most important factors).